Barristers
Year of call: 2004 (Hong Kong), 2012 (United Kingdom)
Dr. Nisha Mohamed is a barrister specialising in Insurance. She advises on disputes between insurers and policyholders regarding policy wordings, matters relating to D&O liability insurance, freight forwarder insurance, winding up of insurers involved in transfer of business and double insurance. She was supervised by one of the leading experts in insurance, Professor Robert Merkin QC, and was permitted by the University of Southampton to complete her doctorate long-distance. She was still in active practice in Hong Kong while completing her doctorate.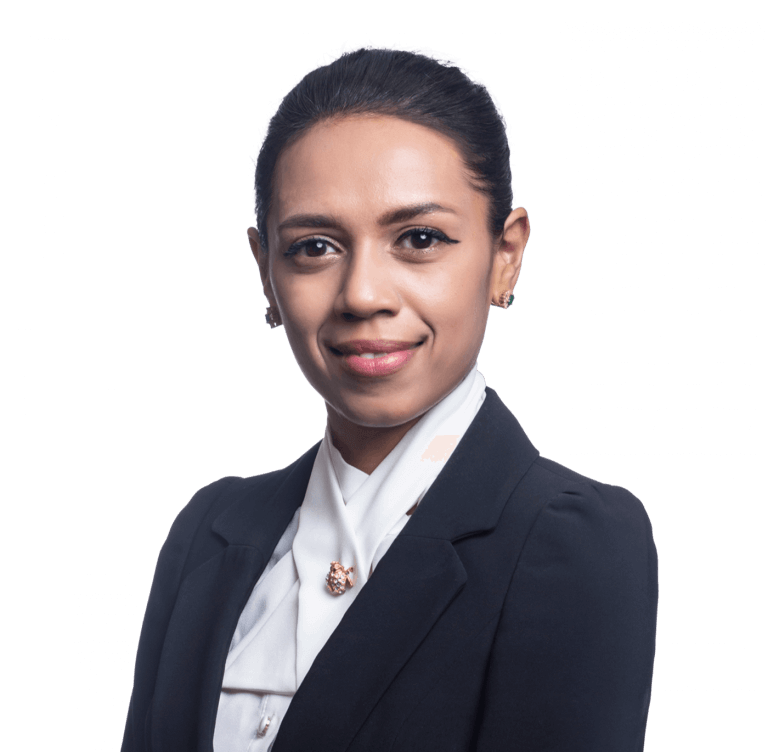 Nisha, together with the late Dr. Gerard McCoy, SBS, SC, QC, provided legal opinion to the Consumer Council with respect to analysis of medical insurance policies in the "Creating Sustainable Value for Private Health Insurance Market in Hong Kong" Report. The Report highlighted the growing demand for private health insurance, consumer expectations and grievances. The Report dealt with issues relating to consumer behaviour, the various stages of private medical health insurance and clauses which limit liability.
Apart from her insurance practice, Nisha appears in various levels of court for civil as well as criminal cases. She has handled numerous first instance and appellate level cases, including High Court trials and appeals in the Court of Appeal and Court of Final Appeal. Nisha also regularly prosecutes and defends in the Criminal Courts.
Nisha was called to the Bar of England and Wales after completing pupillage with Alexander Hickey QC, in a specialist construction and arbitration chambers.
Nisha also has an interest in teaching. She lectures and tutors on the JD, LLB and PCLL courses at the University of Hong Kong and City University of Hong Kong.
Nisha is the the Chairperson of the School Management of St. Margaret's Co-educational English Secondary and Primary School. She serves as Chairlady of the Alumni Association of the School.
CONTACT
Legal Qualifications:
2020, Fellowship of the Chartered Institute of Arbitrators
2014, Doctorate from the University of Southampton (PhD)
2012, Called to the Bar of England and Wales (Inner Temple)
2006, Master of Laws (LL.M) from the University of London
Memberships:
Alumni Ambassador for the University of London
Chairperson of the School Management of St. Margaret's Co-Educational English Secondary and Primary School
Scholarships, prizes & honourable mentions:
Hong Kong Middle Temple Society Advocacy Scholarship
Cases involved in:
HKSAR v Moala Alipate [2019] 3 HKLRD 20
Right to fair trial – Jury Summing Up – Hong Kong Bill of Rights, Article 11 right to interpreting facilities – Competency and proficiency of interpreter – Quality and accuracy of interpretation – Interpreter called to give evidence on appeal
Chan, Tak- Ming Paddy v HKSAR FAMC 22/2010
Application for leave to appeal to the CFA on a point of law – misconduct in public office pleaded on the basis of official data being abstracted for private use
Pasa Danaville Dizon v HKSAR (2009) 12 HKCFAR 960
Judge's refusal to grant bail
Tsang Chung Man HCMA 109/2006
Appeal against sentence – whether previous convictions should be taken into account on sentencing
China United Holdings Ltd and Large Investment Ltd and Johnson Stokes & Master (A firm) CACV 135/2004
Appeal on the issue of negligence of solicitor's based on faulty negligent advice.
Murali Duraisamy v Director of Immigration HCAL 152/2004
Judicial Review of the Director of Immigration's decision